Improved Speech Understanding in Noise and Access to Multiple Speakers Maximizes Opportunities for Incidental Learning
SOMERSET, NJ March 2019 Oticon Opn Play™ unleashes the full potential of Oticon's open sound experience to give children with hearing loss 360° access to meaningful sound. The new child-friendly hearing solution improves speech understanding in simple and complex listening environments and provides access to multiple speakers, without reducing environmental sounds important to incidental learning and safety. The powerful new Velox S™ platform, Oticon's fastest and most advanced platform ever, fuels Opn Play with unprecedented computation power and innovative, breakthrough technology to provide children with the best possible conditions to grow, thrive, live and learn.
Maximizing Conditions to Learn
According to pediatric best practice guidelines, it is crucial to give children as much of the auditory environment as possible, in particular speech, to create the best opportunities for learning and language development.* Opn Play featuring OpenSound Navigator™ (OSN) accommodates best practice by delivering the optimal signal-to-noise ratio across varying listening environments to constantly optimize learning opportunities. Unlike traditional omni directional and directional approaches, OSN gives children the best of both worlds - "always open" access to a balanced soundscape that supports the natural way the brain makes sense of sound, even in difficult listening environments.
A study at Boys Town National Research Hospital with children ages 6-15 reported that OSN offered an average of 4 dB SNR improvement in speech recognition (up to 30%) whether the child faced the speaker directly or faced away. The same study found that OSN preserves competing speech to allow access to multiple talkers, supporting incidental learning for children.
"Young children naturally learn a tremendous amount from overhearing or incidental listening, but children with hearing loss have fewer opportunities to learn by overhearing, especially when they are not looking directly at the talker," explains Maureen Doty Tomasula, AuD, Senior Product & Marketing Manager, Oticon Pediatrics. "The ability of OpenSound Navigator to preserve speech coming from different locations allows access to other talkers in the background, which is fundamental to incidental learning in school-age children."
In a separate study of listening effort for children, researchers at VU University Medical Center in Amsterdam found that OSN improves speech understanding by up to 5 dB SNR with less perceived effort compared to traditional omni directional technology.**
More Speech Details, Less Feedback Risk
Powered by the new Velox S platform, Opn Play analyzes sound at an astonishing 56,000 times/second to give children access speech details with more natural sound and increased comfort. OpenSound Optimizer™, a new groundbreaking technology in Opn Play, uses ultra-fast detectors and a patented breaker signal to proactively manage feedback, even before it occurs. Hearing care professionals can now fit children with up to 6 dB more gain, allowing more stable gain for closed fittings and more open fittings. This enables Opn Play to provide the brain with up to 25% more speech cues, without the risk of feedback.*** The new super-fast technology ensures stable access to speech details to support better language development and allows children to play, hug, interact and wear hats and helmets without annoying feedback.
Easy Connectivity at School and Home
Opn Play offers easy compatibility with existing classroom solutions. A new option - Opn Play plus Oticon ConnectClip - provides the perfect combination for enhancing incidental listening and communication between parents and children with hearing loss, especially when there is distance or noise present, such as when riding in the car, at the playground, or in a stroller. ConnectClip makes it easy for children to stay connected to the most important speakers in their lives, parents, friends, teachers, and coaches. Opn Play is Made for iPhone® and connects seamlessly with smartphones, laptops and other Bluetooth®-enabled devices.
Full Day of Power, Everyday
The Opn Play miniRITE R offers a state-of-the-art rechargeable lithium-ion solution in an elegant and discreet design, eliminating the hassle of handling and replacing batteries every few days. The stylish charger features a stable, reliable magnetic connection and delivers a full day of power, including streaming, with an overnight charge.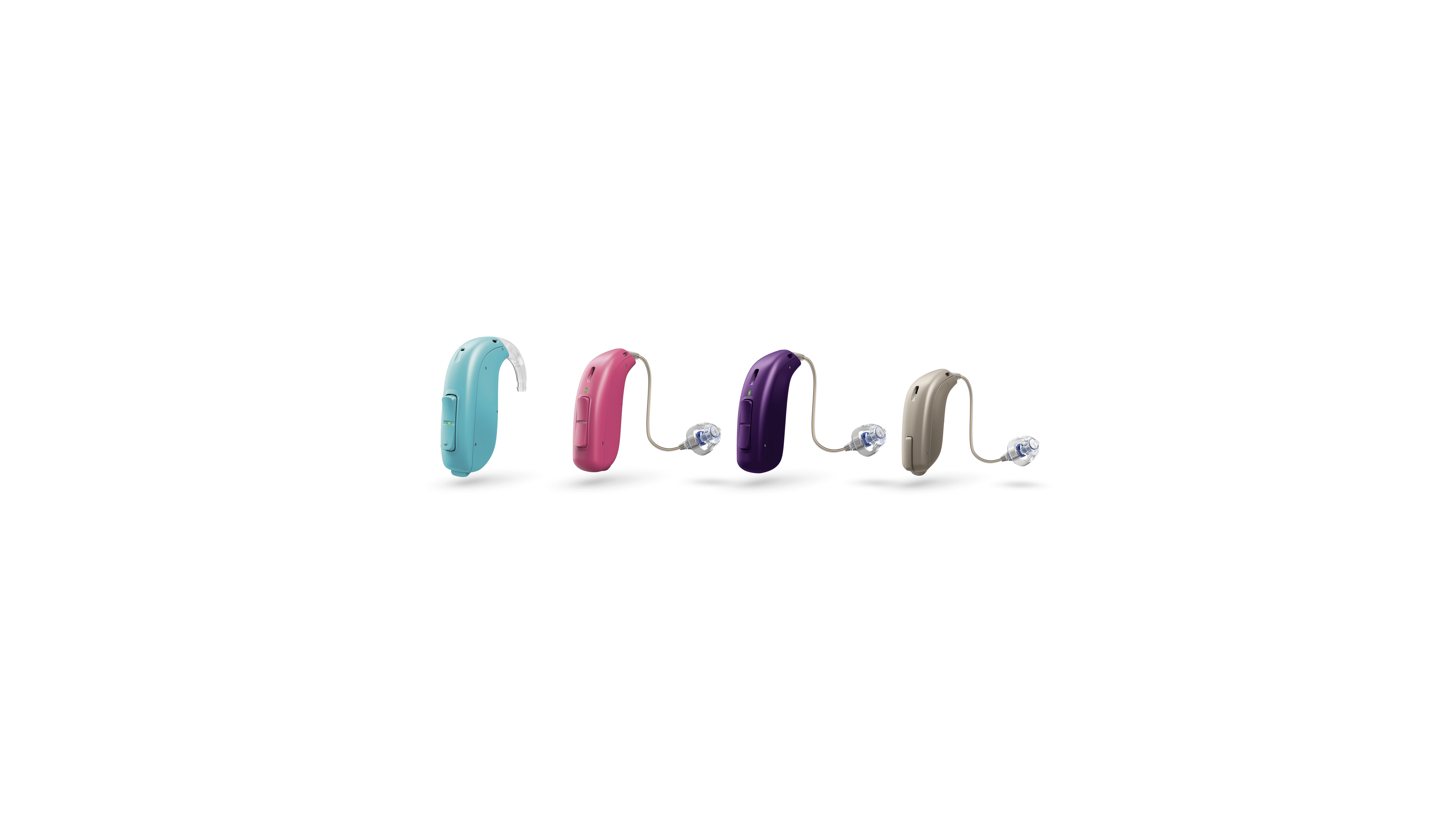 The Oticon Opn Play family is available in fitting ranges from mild to severe across all styles and in an array of kid-friendly colors. For more information about the entire Oticon Opn Play family, visit www.oticon.com/opn-play.
* American Academy of Audiology Clinical Practice Guidelines Pediatric Amplification June 2013
** Ng, E. Goverts, T. et.al. (2019). Oticon Whitepaper.
*** Speech Intelligibility Index. ANSI S3.5.