Ponto Care app is the go-to app for bone anchored users, supporting them from trial to aftercare
September 21, 2020 - Oticon Medical introduces the Ponto Care™ app — a supportive and easy-to-use mobile application for all bone anchored hearing device users. It expands on the previously released Ponto Trial Companion app by adding a second section, Aftercare.
Ponto Care supports bone anchored user engagement
The goal of creating the Ponto Care app was to support users becoming more engaged, independent, and involved in their bone anchored hearing treatment. The app provides them with the self-help tools needed for more insightful conversations with their hearing care professional whether those take place in person or remotely — a very valuable asset during social distancing times.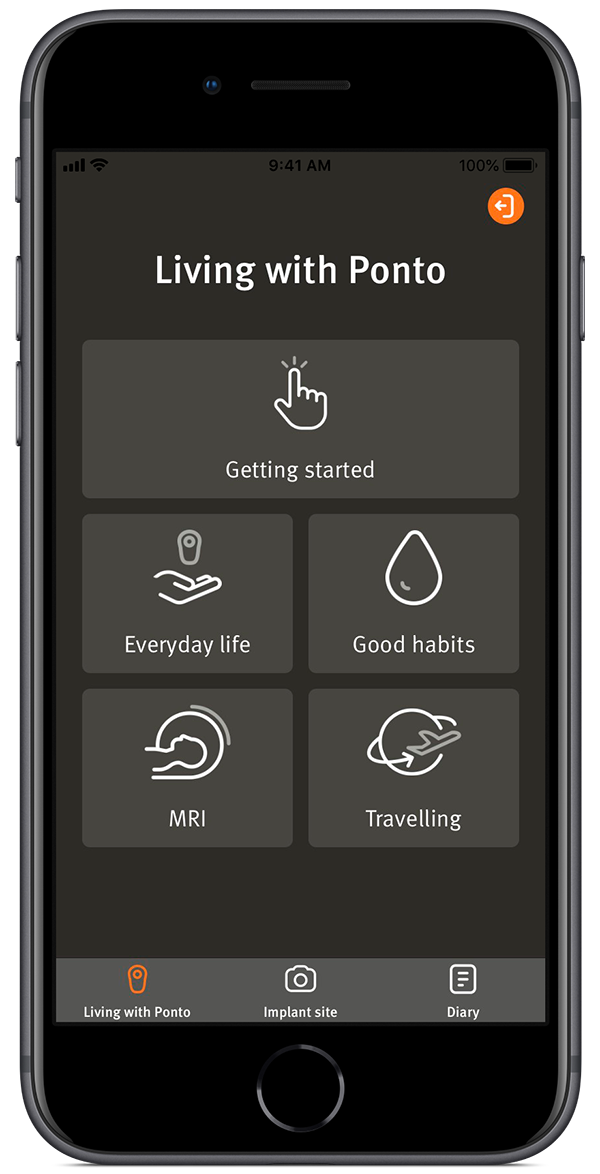 The newly introduced Aftercare section of the Ponto Care app empowers the user to make the most out of their life with a bone anchored hearing device. It can be difficult for bone anchored hearing device users to retain all the information provided by their hearing care professional during appointments. With the Ponto Care app, the user can now get answers to their questions about Ponto and living with bone anchored hearing whenever and wherever it is convenient for them, on topics like how to change batteries, how to maintain their device, and what to do in case of an MRI.
Another goal of the Aftercare section is to support users taking care of their implant site. A smart camera feature will guide users to take photos of their implant site from two different angles, allow them to add relevant comments, save the comments on their phone, and compare the photos over time. This not only provides users with the means of seeing if any changes have occurred at the implant site, but also provides clear data to share with their hearing care professional in the rare case that skin reactions occur.
Additionally, the app helps users track their hearing experiences through use of a digital diary, so that users and professionals can exchange fact-based data during scheduled appointments, and therefore conduct more insightful conversations.
Favorable initial responses from hearing care professionals to Ponto Care
The Ponto Care app was presented to selected partners this spring and reactions have been highly promising. "This is so great! My patients now have so much good information right at their fingertips! This will be helpful," said Dr. Joni Doherty, University of Southern California (USC)/Keck hospital.
The app was released during the time social distancing rules went into effect to combat the Covid-19 pandemic. Theresa Frawley, PhD, ENT Advanced Nurse Practitioner, MRHT in Ireland has been using the app for several months and commented, "During the Covid-19 crisis, when hospital attendance was restricted, patients used the Ponto Care app. This gave us the tools to have a better and more detailed conversation. Thanks to the app, we reduced the number of in-person visits to the BAHS clinic without sacrificing quality of care. Ponto Care allowed us to feel closer to the patient during these times of social distancing when we couldn't meet face-to-face."
Hamed Sajjadi, MD, Stanford Medicine also sees the value of the Ponto Care app during current times. "The Ponto Care app builds on values that are very important to us, such as patient-centered care and patient engagement. We look forward to using it, especially during these social distancing times."
Ponto Care app supports the trial phase – an important step in the bone anchored patient journey"
Finally, for clinics that cater to bone anchored home trials, Ponto Care also has a dedicated section to ensure that candidates get the most out of this delicate phase. Research [1] conducted by the Ear Foundation showed that 38% of clinically suitable candidates decided not to proceed with a BAHS at their current stage of life. This research highlighted the need to support decision-making by providing the right information and experience to encourage candidates to proceed with their treatment.
This sums up the motivation behind the development of the trial section of the app —supporting candidates during the trial process by guiding them through different situations and making sure they keep a record of their experiences, which gives them a better foundation for conversations with their hearing care professional at the post-trial visit.
The Ponto Care app is compatible with both iPhone® and Android™, is available in ten languages* and can be downloaded for free from the App® Store or Google Play™.
The language of the app will be adjusted automatically depending on the language of the user's phone. The app does not require any login.
For more information about the Ponto Care App and Oticon Medical visit www.OticonMedical.com/app/ponto-care
About Oticon Medical
Oticon Medical is a global company in implantable hearing solutions, dedicated to bringing the magical world of sound to people at every stage of life. As a member of one of the world's largest groups of hearing care companies, we share a close link with Oticon and direct access to the latest advancements in hearing research and technologies. Our competencies span more than a century of innovations in sound processing and decades of pioneering experience in hearing implant technology.
By working collaboratively with patients, physicians and hearing care professionals, we ensure that every solution we create is designed with user needs in mind. We share an unwavering commitment to provide innovative solutions and support that enhance quality of life for people wherever life may take them. Because we know how much sound matters.
For more information, please contact
Oticon Medical, USA
Images accreditation: Oticon Medical
*English, Spanish, French, Italian, Danish, Norwegian, Swedish, Dutch, German and Portuguese
1 Ng, Zheng Ng; Allen, Sarah; Mulla, Imran; Archbold, Sue; Gregory, Melanie. "Decision-making: Bone conducting hearing implants for adults." Ear Foundation. Web. April 16. 2019.
Apple, the Apple logo, iPhone, iPad, and iPod touch are trademarks of Apple Inc., registered in the U.S. and other countries. App Store is a service mark of Apple Inc. Android, Google Play, and the Google Play logo are trademarks of Google LLC.