CAROLYN SMAKA: Hi Ben, thanks for joining. Tell me about the Amigo Star.

BEN FERNÉE: The new Amigo Star is an ear-level FM receiver designed for children in the classroom. We anticipate that Amigo Star will mostly be used by children with normal audiograms, but who have difficulties with processing auditory information or concentrating on the teacher's voice in noisy classrooms. Similar devices have also shown benefits for children with unilateral hearing loss when worn on the good ear, for non-native speakers, and for children reading delays. We expect Amigo Star will be used primarily by children aged 5 through 16 years.
Amigo Star sits behind the ear and delivers sounds to the ear through an open fitting, using a thin tube and dome. It receives sound from an FM transmitter that is worn by the classroom teacher. Amigo Star significantly improves the signal-to-noise ratio of the teacher's voice.
CAROLYN: Can Amigo Star be used with any FM transmitter?
BEN: In fact, yes. Amigo Star is designed to be used with the Oticon Amigo T5 or T30/T31 FM transmitter, however, it can receive FM input from virtually any transmitter. This makes it great for schools with an FM program already in place.
Amigo Star has a really helpful feature that helps it locate and lock onto the FM channel being used in the classroom. The student or teacher simply presses a button on the Amigo Star and it seeks out the channel, regardless of the type of FM transmitter being used.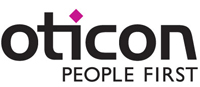 CAROLYN: Why did you develop this new product – did you see a market need?
BEN: Yes. My colleague, Carl Sandrock from Oticon conducted an FM focus group in July 2010 with 18 educational audiologists. We wanted to determine what their needs were with respect to classroom FM. It became apparent very quickly that a new ear level FM device was required.
The audiologists involved in the focus group wanted an easy-to-use ear level FM receiver that could be used to help kids overcome the challenges of listening in noisy classrooms.
Following the focus group, we came up with a draft specification and created a prototype. Carl then went back out for more market feedback. The educational audiologists wanted a device with a volume control and also a channel seek button. The educational audiologists also stated that an LED status light would be really helpful for determining if the device was on and successfully receiving an FM signal.
CAROLYN: Kids can be pretty tough on their equipment. Did you factor this into the design?
BEN: Yes. The device has an IP57 classification, meaning it is both water and dust resistant.
In addition to the IP classification, we also submitted the device to a rigorous testing procedure -- dropping it from various heights and also placing it in a tumble machine. We have several machines in the office in Denmark that put the product through its paces. We know kids don't always look after things as well as they should, so we factored this into the design.
Amigo Star is one of the most robustly designed products we have made to date.
CAROLYN: Why did you choose a thin tube design rather than a receiver in the ear?
BEN: With shrinking school budgets, ongoing maintenance costs were a major concern that came out of the focus group. Thin tubes and domes are both easier and cheaper for the schools to replace than receiver systems that are in the ear. With Amigo Star, the thin tubes and domes can be replaced or cleaned at the school without sending it back to the office, for simple problems like wax. This can save a both a lot of money and also time.
Another advantage of the thin tubes and domes is that they come in a range of sizes that can fit almost any ear, large or small. The thin tubes are virtually invisible, so all the kids we have trialled with the device loved the appearance.
Also, from a hygiene perspective, the thin tubes can also be easily removed for cleaning and periodic changing.
CAROLYN: What kind of trials or testing was conducted with the Amigo Star?
BEN: We conducted field trials prior to launch in Denmark, Canada and the US. The studies utilized clinical measures as well as SIFTER questionnaires to determine how the Amigo Star performs in the real world. The results are still being analyzed but overall have been extremely positive.
We've had great feedback from classroom teachers, educational audiologists, parents, and most importantly, the kids themselves. Educational audiologists told us that they really liked the Corda 2 thin-tube solution, so they could perform maintenance right at the school without having to send away for receiver replacements. This includes easy maintenance for wax issues – it's easy to remove wax from the thin tubes, and the domes and tips are easily replaced in the classroom. They also liked the fact that having a thin tube solution rather than a receiver-in-the-ear eliminated some cost issues, as well as the administrative burden of having to process purchase orders and paperwork whenever equipment is sent for repair. Parents and children commented on the fact that Amigo Star is virtually unnoticeable when you look at the person wearing it from the front profile or the side. Everyone also felt that Amigo Star provided a very robust solution that would withstand daily wear from school children, who can be tough on their equipment.
CAROLYN: As the mother of a middle schooler myself, I can certainly testify to that. What kind of support does Oticon provide for the Amigo Star?
BEN: We have developed an extensive support package, that includes not only the product information and brochures that you would expect, but we have also created a series of getting started videos. We know that not only audiologists, but also parents, teachers, speech-language pathologists and others will be using Amigo Star and we wanted to make it easy as possible to start using the system and to ensure that children benefit from it. To that end, the video series includes one on verification of the system using probe microphone measures, as that is a common question we get from audiologists.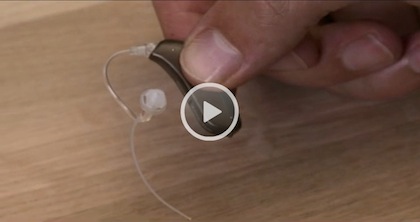 Step-by-step video provides a simple tutorial on getting started with Amigo Star, and is part of the extensive support package from Oticon.
CAROLYN: We often get questions on verification of FM systems from audiologists as well, so I'm sure that video will be a great resource. Last question for you – is the Amigo Star available now?
BEN: Yes, Amigo Star is available now in the U.S. and Canada, with other markets to follow. Professionals who are interested can contact their local Oticon representative for details about availability in their market. More information can be found at www.oticonusa.com/amigo or the Oticon Expo Page on AudiologyOnline.