Editor's note: On December 1, 2009, Siemens announced its third annual partnership with Quota International's Sound Beginnings program, which will be effective through September 2010. As part of the renewed partnership, Siemens is expanding the program to provide vouchers for 100 free hearing instruments to both children and young adults, age 23 years and under, who have been diagnosed with hearing loss. The vouchers allow for the donation of Siemens Motion®, Siemens Explorer® and Siemens Cielo® 2 hearing instruments.
CAROLYN SMAKA:
Christi and Nancy, thank you so much for your time today and welcome to AudiologyOnline.
CHRISTI PEDRA:
Thank you, it's nice to be here.
NANCY FITZPATRICK:
Thank you, Carolyn.
SMAKA:
Nancy, can we start by hearing about your background and your role at Quota International?
Nancy Ivester Fitzpatrick
FITZPATRICK:
Certainly. I have spent my career serving international and national non-profit organizations headquarted in Washington, DC and I hold a graduate degree in business specializing and organization development as well as human resource development.
I've been with Quota International for 15 years. Founded in 1919, Quota connects members of all ages, occupations, and nationalities in a worldwide network of service. Although our members are now both men and women, Quota was the world's first international service organization just for women. Quotarians, as we call our members, work in two main service areas - assisting deaf, hard-of-hearing and speech-impaired individuals and also serving disadvantaged women and children. We currently have 6500 members and 285 clubs in 14 different countries, and our members not only change lives but save lives. We are very proud of the volunteer work that they do in their home communities.
In my role as Deputy Executive Director, I oversee our international communications, strategic planning, and the work of Quota International's charitable arm, the We Share Foundation,
www.wesharefoundation.org
. The purpose of the foundation is to empower our volunteers worldwide in their own service activities.
SMAKA:
Thanks, Nancy. Christi, can you share with us your background, and tell us about your role at Siemens Hearing?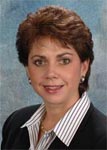 Christi Pedra
PEDRA:
Sure. As you are aware, Siemens is one of the largest manufacturers of hearing instruments in the U.S. and we have a global presence in the hearing industry.
My tenure within the Siemens organization is over 20 years, and I have been CEO of Siemens Hearing for just over two years now. I came to Siemens Hearing with a focus on how we help the two customers we serve, the hearing care professional and the hearing impaired, and how we can continue to bring forth products and solutions that focus on the needs of both those customers.
In serving these customers, we have made it our mission as an organization to spread hearing-loss awareness and education across the United States. We are doing this in three ways. First, we are developing strategic business and marketing partnerships, such as the Siemens alliance with The Walt Disney Company. Through the alliance between Siemens and Disney, we have worked to create awareness of pediatric hearing loss and contribute to a positive experience as parents and children go through the process of discovery, selection and fitting the child with the most appropriate hearing instrument. Each child receives a free Disney Pediatric kit with the purchase of a Siemens hearing instrument. The kit contains all of the necessary tools to care for hearing instruments while providing a fun, educational story book,
Three Cheers for Bunny's Ears!
to help parents and children learn about hearing loss through an entertaining story about a new Disney character, Bunny, who was created exclusively for Siemens.
The second way we are raising hearing loss awareness and education is through print and Web resources at
www.hearitforthefirsttime.org
. With these resources, it is our goal to help improve the quality of life and educate parents of children with hearing loss, regardless of their age. We want to provide information specifically tailored for parents with children with hearing impairment, and we also want to make it easy for parents to take action if they think their child may have hearing impairment.
And the third way we are raising awareness is through meaningful charitable relationships, such as the Sound Beginnings Partnership with Quota International.
So, in terms of helping people with hearing impairment, especially the pediatric segment ages 17 and younger, these are the programs where we are committing our energies.
Through Siemens alliance with The Walt Disney Company new resources have been developed for children and families to reduce the stigma associated with hearing loss.
SMAKA:
Nancy, Christi mentioned the Sound Beginnings partnership with Quota International. Can you give us the details?
FITZPATRICK:
Sound Beginnings is a program established by Quota International's We Share Foundation to ensure that children are screened for hearing loss and receive the proper treatment. Quota service clubs worldwide promote hearing screening in hospitals, educate parents about the importance of testing their children, and help hospitals perform testing. Some Quota clubs in the United States and overseas have also been involved with ensuring legislation requiring infant hearing screening at birth.
In 2008, Siemens donated 100 vouchers for free pediatric hearing aids to our Sound Beginnings Program for the purpose of distributing them to children diagnosed with hearing loss whose families could not afford them. After our Quota service clubs in the United States distributed all 100 vouchers, Siemens renewed the program in 2009, donating another 100 vouchersecifically,50 Explorer™ 500P BTE and 50 CIELO 2 vouchers for distribution this year. to children whose families cannot afford hearing aids and whose health insurance does not cover them. Children who qualify must be 17 years or younger and also not qualify for hearing aids through health insurance. Children approved to participate in the program can receive up to two vouchers—a hearing aid for each ear if needed.
We are very grateful to Siemens for making this exciting partnership possible. Siemens is really making a difference in the lives of children with hearing impairment and their families with this extremely generous donation.
Our local Quota clubs make an investment in the success of the program as well. Participating clubs are required to finance for one year any direct expenses related to the fitting and maintenance of the hearing aids including visits to audiologists, earmolds, and batteries. Some clubs raise needed funds through community fund-raising events. Others are fortunate to be able to obtain audiologist services at a reduced cost or donated in full. This greatly increases the number of children served.
PEDRA:
Carolyn, as you know, today only eleven states in the nation mandate partial insurance coverage for pediatric hearing instruments. It's difficult for many families to afford this out-of-pocket expense. So the Sound Beginnings Partnership with Quota International began as a pilot program last year where we donated 100 vouchers for free hearing instruments. At last count, 52 children were served across the US, since most children received two hearing instruments. After this success, we renewed our partnership with Quota for a second year with a donation of another 100 instruments.
For Siemens, we are proud to align ourselves with an organization such as Quota International. We have a tremendous amount of respect for what they do and how they reach into the community and focus on serving the disadvantaged, especially those with hearing loss.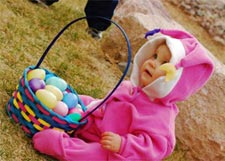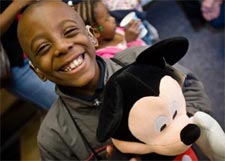 The Sound Beginnings Children's Hearing Aid Program offers Quota International service clubs in the U.S. the opportunity to distribute up to 100 vouchers for free hearing aids supplied by Siemens Hearing Instruments, Inc., to qualified applicants
FITZPATRICK:
The Sound Beginnings partnership with Siemens Hearing Instruments is very significant to us and we are thrilled to be working with them. First of all, it's the largest in-kind gift that our We Share Foundation has received and that in and of itself is very exciting for us.
The program provides a service to people in need, and that's what Quota International is all about. Our organization has a strong, 90-year legacy of service in 14 countries, and the generous donation from Siemens helps us do our jobs better in the communities we serve.
Another benefit of our partnership with Siemens is that it has generated increased publicity for our participating local clubs within their communities. The increased publicity is wonderful because it is a vehicle for attracting new members and more local service dollars. And this, in turn, helps us to provide more service back to the community.
The third benefit of this partnership is the renewed sense of enthusiasm for Quota that has been generated among our members. For example, our Metro Denver club in Colorado is so passionate about this program that they have identified over 21 children thus far to benefit from these instruments. This kind of renewed passion and enthusiasm strengthens our clubs for continued service in all areas.
View Siemens Hearing Instruments and Quota International Slide Show
.
Even though our Sound Beginnings partnership with Siemens is U.S. based, it has touched our members around the world. This partnership with Siemens has been a source of prestige for us in their eyes. Quota clubs in other countries have told us that they are very proud of the program.
SMAKA:
Can you speak about any of the individual children who have received these instruments?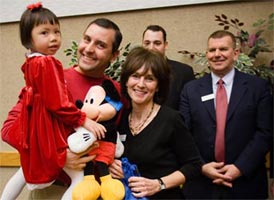 Lydia, a recipient of hearing aids through the Sound Beginnings partnership
PEDRA:
One young recipient of the Sound Beginnings program is a girl named Lydia. Lydia was adopted by a loving family that wanted to provide the best hearing treatment for their little girl, but unfortunately, the costs associated with adoption, speech and language therapy and supporting their other young son presented a challenge for the parents. With the assistance of a Quota member, Lydia's family applied for and was accepted into Sound Beginnings, allowing them to provide the hearing instruments that Lydia needed. I think her story pretty much rings true to many of the experiences that parents have had when their child has hearing impairment, and may be misdiagnosed or not diagnosed at all.
FITZPATRICK:
I agree, Christi, and it's very heartwarming. Lydia was a Chinese orphan whose first adoptive family gave her up because of difficult behavior. The physician of her next adoptive family discovered that Lydia had moderate bilateral hearing loss and led her to her community's local Quota club, whose members were able to get her the help and the hearing aids she needed through the program. Now, Lydia's parents look back on her behavior and see that her hearing loss played a major role.
Noah is an example of another child we are helping through the Sound Beginnings Partnership and his story is quite compelling.
A bright and hard-working 11-year-old boy, Noah suffers not only from hearing loss, but dyspraxiz, dyslexia, and ADHD. Noah was adopted by a wonderful family with a long history of adopting and raising special needs children. Finances are very tight in this family, however, and Noah's mother is unable to work due to medical conditions of her own. The Sound Beginnings program stepped in and provided two Cielo 2 hearing aids that will enable this special young man to continue with his many community activities, which include volunteering more than 825 hours for the local animal shelter, serving as an ambassador for the Listen Foundation, and working toward becoming an Eagle Scout.
SMAKA:
Thank you for sharing those stories, they are wonderful.
How can audiologists get involved if they want to volunteer their time to this program, or if they know of children who need assistance?
Maria, a recipient of hearing aids through the Sound Beginnings partnership
PEDRA:
I'm glad you brought that up. This program is collaboration between Siemens, Quota International, and audiologists who provide the audiological care for these children. The program's success depends on all of us, working together.
We would really encourage audiologists to get involved and find out more about the program, and if they are so inclined, to give their time and services to help support children in need. We also look to audiologists to refer children that they have identified who might qualify for the program.
FITZPATRICK:
We would be delighted to hear from audiologists who are interested in helping or donating their services, who want to assist a child in need, or who may even want to become a member of Quota. There are many personal and professional benefits to membership in Quota, and we currently have many audiologists affiliated with our organization worldwide.
The We Share Foundation Web site,
http://www.wesharefoundation.org/sound.begin.prog.htm
, contains information for people who are interested in learning more about the program or who want to help a child in need, including audiologists or families who have a child who may need assistance.
If an audiologist prefers to communicate with a staff member about the needs of a particular child or the program in general, Yamileé Theophile is our Sound Beginnings Program manager. She can be reached at
yamilee@quota.org
or 202-331-9694. And I would be delighted to speak with any audiologists interested in learning more about membership in Quota International. I can be reached at
nancy@quota.org
or 202-331-9694. We are happy to connect audiologists to existing clubs or to help them launch a new club if there is not one already in their community.
In regard to referring children, we don't have a Quota service club in every community, and at times a club in a community may not be able to participate in this program for one reason or another. So we are collecting the names, from audiologists and others, of children who need assistance and we are sending this information out to our entire network in the United States. Therefore, a service club doesn't necessarily have to be in the community where a child is located in order to assist that child.
SMAKA:
How would someone go about donating to Quota?
FITZPATRICK:
Thank you for asking because the We Share Foundation, which makes this program possible on Quota's end, operates entirely on donations. Tax deductible donations can be made to the We Share Foundation, a 501(c) (3) non-profit organization, and more information can be found at
http://www.quota.org/qol/donate.htm
SMAKA:
Nancy, with the current economic climate, are you seeing more need than in the past?
FITZPATRICK:
Absolutely. Many applications that have come through our program are the result of lost jobs and health insurance. The economic climate has definitely increased the need for the program.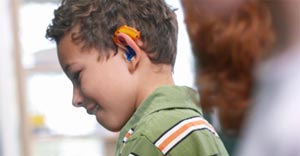 The Sound Beginnings program provides hearing instruments for qualifying children ages 17 years and younger
PEDRA:
I'd also like to make note of the fact that these instruments are for qualifying children up through age 17. Sometimes we think of pediatric hearing impairment in terms of children in preschool or grammar school, but it extends all the way through high school. As children with hearing impairment get into adolescence it can become challenging as they assert their independence and try to meld in with their peer group. They may feel that their hearing impairment sets them apart. So in addition to clinical audiological issues, there may be psycho-social issues to be addressed.
From my own personal experience, I can tell you about a nephew of mine. He has significant hearing loss, and struggled academically. He needed some support counseling to work through what he felt was a stigma associated with his hearing loss. He did so much better when he wore his hearing instruments, and he flourished once he really understood the difference hearing aids made in his life. He became a great student.
It is very important for us to be sure to include children with hearing impairment of all ages, 17 years and younger, in the Sound Beginnings partnership.
SMAKA:
Thank you both for your time today. We look forward to hearing about the continued success of the Sound Beginnings partnership.
PEDRA:
Thank you, Carolyn, it's been a pleasure.
FITZPATRICK:
Thank you for sharing information about the program and about Quota International.
About Siemens Healthcare
The Siemens Healthcare Sector is one of the world's largest suppliers to the healthcare industry. The company is a renowned medical solutions provider with core competence and innovative strength in diagnostic and therapeutic technologies as well as in knowledge engineering, including information technology and system integration. With its laboratory diagnostics acquisitions, Siemens Healthcare is the first integrated healthcare company, bringing together imaging and lab diagnostics, therapy, and healthcare information technology solutions, supplemented by consulting and support services. Siemens Healthcare delivers solutions across the entire continuum of care - from prevention and early detection, to diagnosis, therapy and care. Additionally, Siemens Healthcare is the global market leader in innovative hearing instruments. The company employs around 49,000 people worldwide and operates in 130 countries. In the fiscal year 2008 (Sept. 30), Siemens Healthcare reported sales of 11.2 billion, orders of 11.8 billion, and Sector profit of 1.2 billion. Further information can be found by visiting
http://www.siemens.com/healthcare
.
About Quota International
Quota International, Inc., is a 90-year old international service organization which links members of all ages, occupations and nationalities in a worldwide network of service and friendship. Quota's 6,500 individual members in 285 Quota clubs in 14 countries across the world are committed to serving their communities and their world. With a motto of "we share," Quotarians are known especially for their service to deaf, hard-of-hearing, and speech-impaired individuals and disadvantaged women and children. Serving others, developing friendships and promoting international understanding are values shared by all Quota members. Further information can be found by visiting
www.quota.org
and
www.wesharefoundation.org
.