Sam Westover

Kathy Landon
CAROLYN SMAKA:
Today I'm speaking with Sam Westover, Sonic Innovations Chairman & CEO, and Kathy Landon, Sonic's VP of Products & Marketing. Thanks for having me. How are things going with the upcoming launch of Endura?
SAM WESTOVER:
Things are going very well. It's exciting to have a product in our portfolio for severe to profound hearing loss. We've been working on Endura for four years now. We've put a lot of resources into this product since this is a new category for us, and we've got something that's really special here. We're looking forward to getting it launched this spring, and we're pleased with the excitement and enthusiasm it received from professionals at AudiologyNOW!

SMAKA:
Dr. Nilsson and I had talked about the features a few weeks back, and I got to see the case first-hand at AudiologyNOW! It is so slim.
WESTOVER:
Yes, and the nice thing about that is because it is so much thinner, it feels so much better when it's worn. It's very lightweight. Our engineers are great at packing a lot in to the smallest imaginable space, if you look across all of our products.

Endura is Sonic Innovations new, slim, fully-featured superpower BTE
KATHY LANDON:
We put a lot of effort into making Endura very low profile when it's worn on the ear. One of the early designs that we prototyped looked nice in the hand, but when worn it came up higher on the ear. So we went back to the drawing board because we weren't happy with the way that it looked. We changed the design and now it has a very low profile on the head. It's a lot more discreet, too, which is always important to us because we know it's important to many consumers. I have a small ear so it's great for trying out our prototype designs. If an instrument disappears on my ear, we know we've got a great design.
SMAKA:
And it is fully-featured. The integrated Direct Audio Input is a great thing.
LANDON:
Yes, the integrated DAI feature is going to be really nice. Sometimes we get stuck thinking of DAI only in terms of FM systems, but the beautiful thing with Endura is that its integrated DAI is also a great solution for use with iPods. Everybody's using iPods today, and it's just so easy to plug a DAI cable directly into your Endura instruments, and you don't look any different than anyone else using their iPod.
We have a white Y-cable for DAI, so it just looks like you are using the standard white iPod cable. You can order the DAI cables from us with the Endura instruments, or at any time.
WESTOVER:
It's much less expensive than a more complicated wireless situation where you have to worry about streamers and docking and all of those sorts of things.
SMAKA:
When I go to the gym everybody's got their iPods plugged in. Nobody's using an accessory to communicate with their iPod in those kinds of situations.
WESTOVER:
Right. It's unnecessary. Sometimes the simplest answer really is the best answer.
LANDON:
Exactly. A wired solution is still preferred in situations like a gym, where people are moving around. It really does work very well. Of course, for patients who want a Bluetooth option for mobile phones and the like, Endura can be used with our sonicBLU accessory. We offer a lot of flexibility to enable professionals to meet patients' unique needs.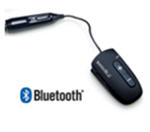 sonicBLU enables connectivity with Bluetooth devices
WESTOVER:
So Endura rounds out our product family which is important to professionals. Clinicians have told us that they like to be able to use one fitting system to be able to meet all their patients' needs instead of switching back and forth between different product lines. From a clinical perspective, familiarity and comfort with a particular software and product line goes a long way.
SMAKA:
In terms of hearing aid selection, Endura candidates would be those with severe to profound hearing loss, correct?
LANDON:
If you are only considering the audiogram, then yes. However, as you know, it's not only hearing loss that drives the need for a particular product;there are other selection criteria to consider. For example, Endura might be the right choice for someone with a more moderate hearing loss under the right circumstance, as it is a very flexible instrument. I could imagine someone who is interested in the DAI feature, its nice long battery life, and its inconspicuous profile, especially since many people wear their hair around their ears.
We want to be careful and think through the patient's needs, and to not get pigeonholed into thinking hearing aid selection is just hearing-loss based, because there might be other reasons to choose different products.
SMAKA:
That is a great point. I attended the Hearing Aid Grand Rounds course at AudiologyNOW! and heard that same sentiment. The first presenter was showing a case, and stated, "Here is the patient's audiogram, which, as you know, tells only a small part of the story. Now let's get to the rest of the patient."
WESTOVER:
Exactly. Endura is great for pediatrics as well. Let's face it, you might not want to give your 10-year old a streamer, regardless of the degree of hearing loss. Anyone who has had a 10-year-old would understand what I mean. [laughs]
SMAKA:
[laughs]. Sam, it's like you know my 10-year old personally. He has lost more lunchboxes, baseball hats, sweatshirts, and even a DS or two. I had never thought of that.
WESTOVER:
Give them a cable, they just plug it in and they're good to go. No DAI boot to take on and off, and no expensive accessory to deal with or look after. Worse case scenario they lose the cable, it's not a big deal to purchase a replacement.
LANDON:
The slim profile and lightweight design make a significant difference on children's ears. It also meets all the requirements you'd have for pediatric fittings such as a choice of earhooks including a smaller earhook for children, a tamper-resistant lock, a pediatric kit, a variety of color options, and stick-on designs.
SMAKA:
Stick-on designs?
LANDON:
We had a lot of fun designing stickers for both pediatric use and also for adults to kind of jazz up a little bit.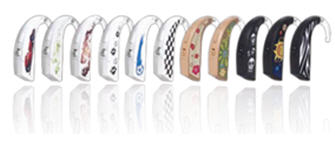 Optional stick-on designs let kids (and adults) customize their Endura instruments
SMAKA:
Love those designs!
LANDON:
It's amazing the reactions that we've had. People are saying that exact thing. "Oh my patients would love those."
WESTOVER:
You know, designing a BTE in this category was a new process for us. When it came to signal processing and the Best Fit Fast fitting algorithm, we assumed we were going to have to make some changes to accommodate the needs of people with severe and profound hearing loss. But what we found was that our Sonic Sound processing and fitting algorithm worked very well for these patients.
We went down the path expecting to make changes, and as we fit more and more people with it, we found our fitting algorithm worked great with one slight change. Normally our maximum compression ratio is 4:1. With the amount of output that Endura is capable of, along with the very narrow dynamic ranges that we are fitting with this product, we enable up to a 5:1 compression ratio. This additional option in the software allows more fitting flexibility as may be needed for people with severe to profound hearing loss.
LANDON:
Another important point is the frequency response. In the low and mid frequencies, we have a very nice, smooth, flat frequency response that's in some cases 10 db more than what the other power and super-power products offer. We believe this additional gain and smooth frequency response can give patinets a better listening experience.
SMAKA:
Sam and Kathy, last year at AudiologyNOW! you unveiled Touch. Can you give an overview of Touch and your other product offerings?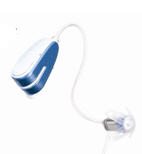 Sonic Innovations Touch® hearing aid was named Best of Innovations Honoree in the Health and Wellness category at the 2010 International Consumer Electronics Show.
WESTOVER:
Certainly. Touch is our receiver-in-canal product and I think it's still the smallest one available. Audiologists have told us that if they hold Touch in one hand and anything else in the other hand, their patients will choose Touch.
Touch is a great product encompassing not only a sophisticated design, but many important features including moisture resistance, directionality, superior noise reduction and more. We were very excited about its recent awards at the International Consumer Electronics Show (CES). We were named an International CES Innovation 2010 Design and Engineering Awards Honoree for Touch, and were awarded Best of Innovations Honoree in the Health and Wellness category.
SMAKA:
Congratulations. That is a huge show, with over 120,000 attendees and a lot of media coverage. When a hearing aid wins awards, I think it is good for the whole industry.
WESTOVER:
I agree.
Our Velocity line also continues to be strong. Velocity covers the full range from mild all the way through power users.
ion is a great solution that can be fit with a thin tube or earhook, and it's a flexible cost effective solution for many patients. First time wearers who are just getting used to amplification love ion because it looks, feels and sounds so natural. And it can grow with the patient with the change to an earhook.
In addition, we have our legacy products and entry level solutions. The piece we were missing was a super power solution. So with Endura, we now cover the entire spectrum.
LANDON:
At Sonic, design is an area of focus for us and an area we do very, very well. It's one area that sets us apart. But our products are more than great designs. We have unparalleled signal processing with Sonic Sound™. Our products are also easy to operate, they have outstanding moisture resistance, and the list goes on.
SMAKA:
Great point, it is easy to get caught up in talking about design.
Sam and Kathy, I appreciate your time in discussing Endura and the Sonic portfolio. Best of luck with the product launch.
WESTOVER:
Thank you, Carolyn.
LANDON:
Thank you.
About Sonic Innovations:
Sonic Innovations, headquartered in Salt Lake City, Utah, has international offices and manufacturing centers across the globe. In conjunction with their distributor partners, Sonic Innovations has provided hearing care services and solutions in more than 25 countries and the company's partners have prescribed more than 1 million Sonic hearing instruments and can be found online at
www.sonici.com
. Sonic Innovations is part of the Otix Global, Inc. family (NASDAQ: OTIX), which can be found online at
www.otixglobal.com
. You may also find more information about Sonic Innovations at the
Sonic Innovations Web Channel
on Audiology Online.