Managing Tinnitus without Hearing Loss and Unilateral Hearing Losses – Tinnitus Case Studies
Course: #22877
Managing Tinnitus without Hearing Loss and Unilateral Hearing Losses – Tinnitus Case Studies
http://www.audiologyonline.com/audiology-ceus/course/managing-tinnitus-without-hearing-loss-22877

Take an opportunity to review case studies of patients with tinnitus. This informal discussion will teach you about using Zen for this population and provide an opportunity for you to ask questions to an expert on your patients.
Course created on September 10, 2013
Course Learning Outcomes
After this course learners will be able to explain how to fit Widex instruments with Zen on normal hearing individuals.
After this course learners will be able to explain how to use the many tools and guides that Widex provides for managing tinnitus.
After this course learners will be able to explain how to manage tinnitus in cases of unilateral tinnitus, with or without hearing loss
Time-ordered Agenda
| | |
| --- | --- |
| 0-10 Minutes | Introduction and Review of Widex Zen Therapy |
| 10-25 Minutes | Present 1st Case Study: Tinnitus with Normal Hearing |
| 25-35 Minutes | Questions and Comments on 1st Case |
| 35-50 Minutes | Present 2nd Case Study: Unilateral Tinnitus |
| 50-60 Minutes | Questions and Comments on 2nd Case |
Course Presenter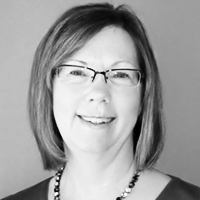 Laurie Bennett,
AuD
Professional Training Audiologist
Laurie earned her doctorate in Audiology from the University of Florida in 2009, and her Masters in Speech and Hearing Science at Purdue University in 1982. She has held a wide variety of audiology positions over the span of her career. These have included diagnostics and hearing aid work in hospitals, teaching universities, non-profit agencies and private clinics. Laurie's special interest has always been in amplification and rehabilitation. Having had a beloved grandmother with a severe to profound hearing loss has made an impact on Laurie's philosophy that all patients are worthy of the best products, guidance and counseling available.
Laurie joined Widex USA in 2011 as a Professional Training Audiologist. She is pleased to share her knowledge and experience with other hearing health care professionals.
Laurie has lived many locations, including 7 states and 2 provinces of Canada. She has held audiology and hearing aid dispensing licenses in many of those places and is a fellow of the American and Michigan Academies of Audiology as well as holding ASHA certification. She is content to finally be settled in Kalamazoo, Michigan with her husband, daughter, cat and dog.
---
Presenter Disclosure: Financial: Laurie Bennett is employed by Widex Hearing Aids. Non-financial: Laurie Bennett has a family member with hearing loss.

Sponsor Disclosure: This Course is presented by Widex in partnership with AudiologyOnline.

Content Disclosure: This learning event focuses on Widex products and services and will not include info on other products or services.


Reviews
Course Participation Information
To ensure you are ready to participate, please complete our short Test Drive to prepare your computer to view the course.
Login and logout times will be recorded and documented.
Passing an online exam will be required to earn continuing education credit, where applicable.
Live Webinars allow presenter and participant interaction. The exam and course evaluation for these courses must be completed within 7 days of the event.
On-demand courses include texts, video and audio recordings of live webinars, and multimedia formats. The exam and course evaluation for on-demand courses must be completed within 30 days of course registration.
Event participation is free, but you must be a CEU Total Access member to complete the exam and earn the continuing education credit.
AudiologyOnline is committed to providing equal opportunities in accordance with all applicable laws. If you are in need of a disability-related accommodation, please contact customerservice@audiologyonline.com. We will review your request and respond in a timely manner. Please note that we will require a minimum of 2 weeks to provide a reasonable accommodation for your request.
Visit our Contact us page or give us a call if you have questions.