Paul Dybala:
Hello, everyone. This is Dr. Paul Dybala with Audiology Online, and I am doing an interview with Laura Price from the Cochlear Corporation (www.cochlear.com) this morning. We are talking about three new things that Cochlear has developed that focus on the pediatric population: the Babyworn Accessory Pack and Cable, the Freedom Snugfit, and the Behind the Ear Tamper-Resistant Battery Holder.
Before we get into that, Laura, if you could give a quick introduction about who you are and what you do for Cochlear.
Laura Price:
Sure. Well, I am an audiologist. I currently work in professionals marketing at Cochlear. I started my career in audiology at the Mayo Clinic. That is where I received the bulk of my experience with cochlear implants. I worked primarily with pediatric cochlear implant patients, but also with a small number of adults.
After working in a clinic setting for about three years, I came to Cochlear as a Clinical Application Specialist. In that role, I provided clinical assistance for clinics in a five-state area and helped to train and teach audiologists and others about programming and working with cochlear implants. I recently transitioned into a job in marketing at Cochlear Americas.
Paul:
Thank you, let's get into the three new pediatric products that Cochlear has just released. Tell us about the Babyworn Accessory Pack and Cable.
Price:
When the Freedom was released, we had two different ways that a patient could configure the device. It could be worn as a Behind the Ear or as a Bodyworn device.
Due to the size and the weight of the Behind the Ear controller, many parents were hesitant to choose that option for their young child. They were afraid they might have a hard time keeping it on the ear of their child.. Cochlear developed the Babyworn in response to this feedback. The Babyworn allows the weight of the controller to come off the ear, making the portion left on the ear much smaller and lighter.
There are two parts to the Freedom. It is a modular system. There is a processor and a controller. By taking the controller off the ear, it reduces a great deal of the weight and bulk on the child's ear. For a 12 month old or a two year old, reducing the weight and size of the sound processor can make a big difference in daily wearing.
The Babyworn cable actually connects the controller to the processor, which is behind the ear and then the controller can be clipped, pinned, or secured using hook and loop onto the shoulder or upper body of the child.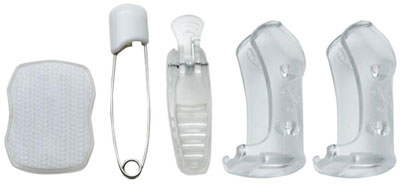 The Cochlear Nucleus Freedom Babyworn Wearing System
Dybala:
Let's move onto the next item, the Freedom Snugfit.
Price:
Going back to the launch of the Freedom system, we collected feedback that there were some problems with retention for our youngest users. The Snugfit was developed in response to that feedback. It is a behind the ear retention aid that replaces the normal ear hook on the Freedom. It has both an upper and lower ear hook, which are both adjustable to help hug the ear for a secure fit. The Snugfit does a great job of holding the sound processor in place on small ears.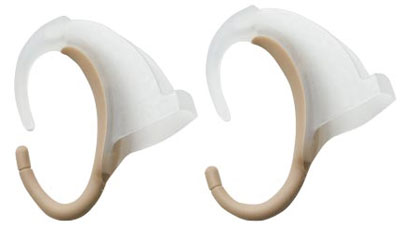 The Cochlear Nucleus Freedom Snugfit
The Snugfit can be worn for patients using any wearing configuration. They can be wearing the Bodyworn, the Babyworn, the standard controller, or the mini controller. The Snugfit will work with any of these options.
The feedback from the Snugfit has been absolutely amazing. I think it is going to be a very popular product. In all of our trials, recipients have loved it. We have actually had many requests from adults to create something in a slightly larger size for them.
Dybala:
That is a great point; everybody wants the device to stay on the ear effectively. I am thinking back to when I was in the clinic and fitting hearing aids; we actually had tubing that would go around the ear and then that would attach to the hearing aid.
That worked pretty well, but it was somewhat cumbersome to add it to the hearing aid, because you had straps that had to go over various parts of the hearing aid. If you wanted to change the battery, you had to take it completely apart.
Because this is an integrated solution, it appears that you have the advantages of the retention without the extra bulk that you might see with other types of retention clips. Correct?
Price:
Exactly. We had something very similar to what you are describing, where tubing ran underneath the ear, back up to the ear hook. What we are finding is that you are right: That was a cumbersome option for patients and parents to deal with. The Snugfit is much more user friendly and really holds the device much more securely.
Dybala:
It seems ideal to couple the Snugfit with the Babyworn Accessory Pack to help retention, correct?
Price:
Exactly. This can be done. I am hoping that parents take advantage of both options: the Babyworn and the Snugfit. And, you are right. I think with the two options together, parents will feel more secure in knowing that the device will stay on the child's ear.
Dybala:
Let's talk about the last item of this package. You have a Tamper-Resistant Battery Holder. Obviously, there is an important safety issue if the battery was consumed by the child using the cochlear implant. Kids are curious. I have a three year old son and if he used a cochlear implant I know he would just want to take it apart and probably hide the batteries somewhere just as a game. [laughing]
Cochlear Nucleus Freedom Tamper-Resistant Battery Holder
Price:
[laughs] Right.. Your three year old wanting to take the batteries out and hide them is the type of reason the Tamper-Resistant Battery Holder and Removal Tool were developed.
The Tamper-Resistant Battery Holder works with the BTE. You can use the Tamper-Resistant Battery Holder for both the standard or the mini-BTE option and use the Tamper-Resistant Battery Holder for both.
The Tamper Resistant battery holder has four holes on the bottom, which match up with four pins on the removal tool. You simply match up the pins with the holes, pull using the removal tool, and the battery holder will come out.
Now, you can still remove the battery holder without the tool; however, it is more difficult, because there is no groove to put your fingernails in to pull it out. The average child has a very difficult time pulling it out. Our validation testing results with the Tamper-Resistant Battery Holder were very good with children five years old and under. The Tamper-Resistant Battery Holder made it more difficult for these children to access the batteries.
Dybala:
Perfect, and hopefully by five years of age they will stop messing with it. [laughs]
Price:
[laughs] Right.
Dybala:
Or maybe I am hoping that my son will stop messing with things by five years of age. [laughing] Let's put it that way!
Now these products are available for new patients, but do you have some sort of upgrade option for existing patients?
Price:
That is a great question, because one of the things I am really excited about with these products, and I am really excited to be able to tell people about, is that for recipients born on or after April 11, 2002 - we are providing the Babyworn and Snugfit free of charge. This targets the under five year old age group, which can benefit from these products greatly.
These recipients have been mailed a postcard with information about the new items All they need to do is fill out their color choice and return that postcard. We will be filling those orders as quickly as possible as we receive them. We have over a thousand orders in so far.
We are really excited about being able to provide these products to our recipients!
For other patients who might not qualify for this promotion, we are providing these products as part of system kits for new patients. They are also available for purchase on our website at
www.cochlear.com
. So, they can be ordered on the web for existing recipients, and they can be ordered as part of the system kit for new recipients.
Again, for all of those children under five, they should have received or will be receiving a postcard from us that they can fill out and return, and we will then send them the products at no cost.
Dybala:
That is great! I assume you are prompting audiologists to ask their patients if they gotten the post card?
Price:
That's right. I have been fielding some phone calls from parents who have heard about the program and have questions. We have informed all the cochlear implant centers about the limited time offer. We will hopefully have a 100 percent success rate on the return of these cards, because we would really like to be able to provide these products to our youngest recipients.
Dybala:
I also see that there is an 800 number: 800-523-5798, Monday through Friday, 7:00 a.m. to 5:30 p.m. Mountain Time. That's not your personal cell phone or anything that I just gave out, right?
Price:
No, no it is not! [laughter]
Dybala:
Okay, good!
Price:
Anyone with questions can certainly call that number. If they have any questions about the products, they can ask to be directed to me, or customer service can help place orders and answer questions.
Dybala:
Well, I think I am out of questions for today. Thanks again Laura, for taking time to visit with me today - this is really a great program that Cochlear is offering.
Price:
Thank you. I am very pleased to be a part of this and glad to have the opportunity to share this information with all of the Audiology Online readers.
About Cochlear Americas Pediatric Accessories
Cochlear Americas, an innovative leader in cochlear implants, is merely adding to an already extensive line of pediatric accessories for the Nucleus Freedom. Established pediatric accessories include a variety of colors and stickers to decorate the device as well as Kaci the Koala stuffed animal with processor. These options help provide excitement and enjoyment in the device for children. Protective and retention devices such as the Koala Critter Clip and now the Babyworn System, Snugfit, and the Tamper Resistant Battery Holder provide parents with the comfort and security that their child's cochlear implant is exactly where it should be throughout the day with no threat to their child. These supplemental accessories are an example of how Cochlear steps above and beyond to help individuals with hearing loss and their families.
In addition to great devices, in November, 2006, Cochlear Americas added convenient accessibility for patients and audiologists with their online store. For more information, go to
store.cochlearproducts.com
.
You can also find additional information on the Cochlear web channel on Audiology Online at
www.audiologyonline.com/channels/cochlear_americas.asp